Which Carpet Cleaning Method is Best? Wet, Dry or DIY?
Carpet Cleaning Method Comparison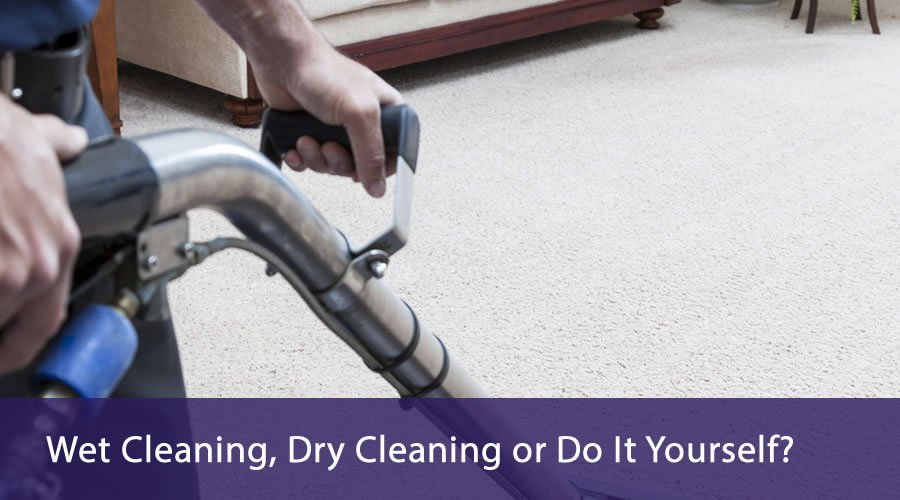 When spring rolls around, everyone knows it is time to give your house a good cleaning. Carpet cleaning is not just a process to remove stains, but a way to keep your home clean and at the same time prolong and improve the life and performance of your carpet.
Most people think they only need to clean their carpet when they see very noticeable stains. This isn't true. Carpets require cleaning every 12 – 18 months. Plus, it may require more frequent cleans depending on your carpet's warranty information.
What Method is Best to Clean Your Carpet?
There are a couple of different ways you clean your carpet and each method of cleaning has advantages and disadvantages. So how do you decide which method is best for your carpet? Here is a review of each method and their pros and cons to help you decide on a method before its time for your next cleaning.
There are two types of way to clean your carpets either dry cleaning or wet cleaning. Dry carpet cleaning uses no-moisture or "very low moisture" (VLM) method. Wet carpet cleaning uses water, known as the hot water extraction method. Wet cleaning is more commonly referred to as carpet steam cleaning.
Dry cleaning
Even though it does use a little water, dry cleaning a carpet is what is normally referred as surface cleaning. This is a convenient cleaning method for those high traffic areas that require a fast drying time. This is not your best option for a full clean, but it works well for maintenance cleans.
Dry cleaning with an absorbent compound works by spreading a mixture of a powder with special cleaning agents and solvents over your carpet and then working it into the carpet fibers with a machine that is outfitted with counter-rotating brushes. The soil in the carpet is absorbed by the powder and after about ten to fifteen minutes of setting time, the powder mixture is vacuumed up.
Pros
Simple system of cleaning that does not require special technical training
Dries quickly with the whole process taking about twenty minutes before you can use your carpet again
Inexpensive, fast, and simple method to apply and use
Cons
Powder may not be vacuumed up completed and left in the carpet to build up over the years
Powder can lead to a build-up of dust in your home
Cannot clean deep down into your carpet
Wet Cleaning
Wet cleaning uses hot water extraction (HWE) and it also known as steam cleaning. The first step is applying a pre-conditioning shampoo to the carpet. This helps to liquefy soil and oil-based stains. The machine sprays a cleaning solvent onto the carpet and then sucks it back up along with all the dirt and allergens.  This solution helps remove of soil deep within the carpet fibers.
Steam cleaning machines can be truck-mounted or portable units. There are benefits to both of these methods. With a portable machine, there is the obvious advantage of being able to use it in smaller spaces like condos or apartments buildings where the reach of the truck-mounted hose is limited. Although, the power of the truck-mounted unit is an overall better method of cleaning and should be used whenever possible for the best cleaning experience.
For those of you that are concerned about the costs that are associated with having a professional cleaning your carpets, you may want to consider only having only those areas that see a lot of traffic cleaned. This means that you do not have to move your large pieces of furniture like your bed or sofa as the cleaner will just clean around them. Since you do not see the carpet under those large pieces of furniture, it makes sense that you wouldn't need to clean that area as frequently. However, if you do move your furniture around a lot, then it would be best to have the entire carpet surface cleaned.
Pros
Is able to get soil out from deep down in the carpet
Use high pressure, high temperature, and chemical concentrates
Allows for the reaction of the cleaning solvent over an extended period of time
An extraction wand or grooming tool facilitates the agitation of chemical reactivity
Most commonly used carpet cleaning method
Carpet manufacturers, professionals, and cleaning experts recommend it for annual upkeep of your carpets
Cons
It takes a while to dry, although some competent technicians can reduce this time with the use of powerful equipment
Maximum efficiency usually can only be achieved with expensive equipment
Is more expensive than other methods
DIY Carpet Cleaning
You may have noticed the carpet cleaning machines you can rent at your local grocery and hardware stores or the many steam cleaning machines that are available in your local department stores. There are tons of machines on the market that may make you reconsider the annual call to the carpet cleaning company.
If your carpet tends to get lots of spills or has a few spots that are hard to clean, having a handy small spot cleaner can be a useful purchase. This is not the type of machine however, that can give a good cleaning to your entire carpet.
DIY Carpet Cleaning Risks
When using a DIY machine, you will find that the water does not get as hot as the high temperatures of a professional machine that is one of the requirements of an effective cleaning. Plus, this type of machine will not have the power that a professional machine has so it is not able to pull out as much dirt and water from the carpet.
When you rent a carpet shampoo machine, the cost of the rental will include:
The carpet cleaning machine rental cost
A heavy-duty cleaning agent
Optional upholstery cleaning attachments or other cleaning agents like a spotter spray
After you are done cleaning your carpet, it should only be a little damp. If your carpet is still pretty wet, then you will know that the machine you used was not powerful enough to do the job effectively. You can use fans to help speed up the drying of your carpet if it is still very wet after cleaning and don't walk on it or replace the furniture before the carpet is totally dry.
Other things to consider before cleaning your carpet yourself is how much of the cleaner will you need to add to the machine and what type of technique will you use to move the machine over the carpet, i.e. fast or slow, all can give you opportunities for things to go wrong when cleaning a carpet on your own.
Pros
Save money up front
You have total control over the cleaning and what areas are cleaned
Don't have to schedule an appointment and can work around your own schedule
Stain and spot removal products are pretty cheap
Cons
You don't get as deep a clean as using a professional since you won't have the same power
You have to do the work yourself
It can take forever to dry
Stained areas that are self-treated tend to return
Carpet Cleaning Problems
Problems can arise whether you have your carpet cleaned professionally or you do it yourself. These problems can include:
A musty smell or the growth of mold
Water or brown stains from the carpet backing
Cracking or shrinking which is an extreme case and can destroy the carpet
You can always ask the carpet cleaner to take out more water if your carpet seems overly wet, to loan you an industrial-strength blower to help your carpet dry faster, or to lift the carpet back so they can dry out the underlay.
Are the Chemicals Used in Carpet Cleaning Safe?
When deciding to have your carpets cleaned, it is ok to ask the carpet cleaning professionals what chemicals they plan to use. Some of the chemicals can be damaging for you and your family so it important to know which to avoid.
Chemicals that are not safe for you and your family to come in contact with include:
Butane
Glycol Ethers
Hydrofluoric Acid
Sodium Bisulfate
Nitrilotriacetate Acid
Isobutane or Propnae
Perchloroethylene and Tributyl Tin
Quaternary Ammonium Chloride
Sodium Carbonate and Sodium Hydroxide
You can ask your carpet cleaning professional if there are alternatives to these harsh chemicals. There are also several eco-friendly carpet cleaners that use Green Certified Products that are safe for you and your family. If you choose to do the cleaning yourself, make sure to read the labels and avoid exposing.
Extending the Life of Your Carpet
When extending the life of your carpet, you want to make sure to follow these steps:
Keep systems in place to remove most of the soil that is brought into your home or facility with extra focus placed on entrances and high traffic areas.
Remove debris daily by vacuuming before it can damage the carpet fibers.
Perform spot removal and interim cleaning regularly.
Conduct occasional restorative cleaning which can mean either dry or wet cleaning depending on the traffic that you have.
Most professionals agree that a wet cleaning will be necessary at certain times during your carpet's lifespan. Besides improper maintenance, using chemicals that are too harsh is a common way to damage your carpet. Make sure to follow the proper steps for maintaining and cleaning your carpet to ensure that your carpet lasts a long time.
Conclusion
Your carpet is the first impression many people will get when they first walk into your home or office, so it is important to make sure it stays clean. Whether you use a professional dry or wet cleaner or you end up cleaning the carpet yourself is a personal choice but always make sure to do your research on the company you choose. When you find the best carpet cleaning method for you and your home, you can sit back and enjoy your clean carpet while helping to maintain and extend the lifespan of your carpet.
If you found this article helpful please follow us on Facebook and Google+.